Open call for Sport Diplomacy pilot initiatives in 2022
07/10/2021
TES-D Partners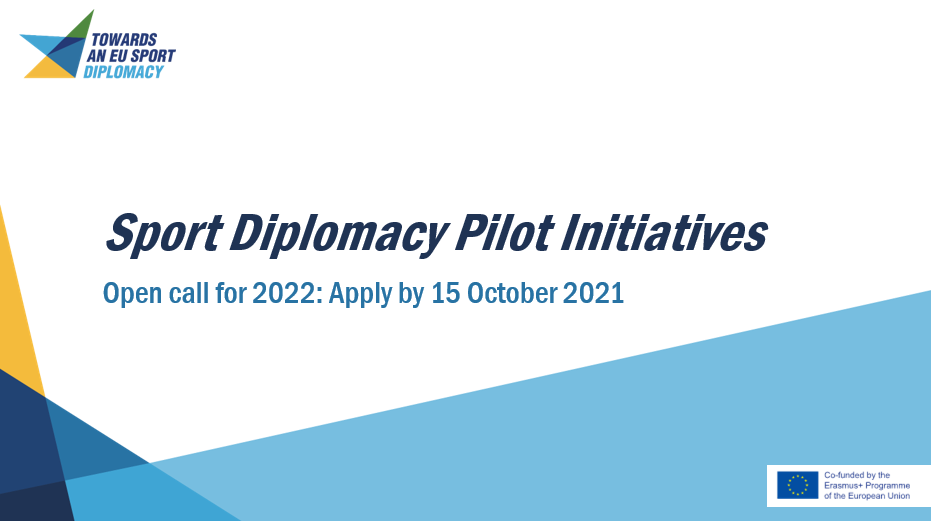 Would you like to see what Sports Diplomacy can do for you in your local, national or international community? Would you like to try a Sport Diplomacy initiative? Would you like to work with experts in Sport Diplomacy for a year? If you said yes, then this call is for you.

The Towards an EU Sport Diplomacy (TES-D) project is looking to fund five pilot projects or initiatives in sport diplomacy to be implemented in 2022. If you think this might be for you, please read on.
So what is Sport Diplomacy?
Before we go any further, let us share what we are talking about: As Nelson Mandela said in 2000, "Sport has the power to change the world. It has the power to inspire. It has the power to unite people in a way that little else does."
Anyone who has shared in sport's capacity to heighten emotions with the scoring of a goal, the winning of a race or a triumph over an opponent will recognise the 'power' that Mandela acknowledged. In essence sport has an ability to communicate with a vast number and variety of people – and hence facilitate diplomacy.
So Sport Diplomacy can take place in many different settings: it can operate at local and international levels, so wherever you think it applies we will be fascinated to hear from you. Sport Diplomacy can cross boundaries and/or borders. It can promote national interests; brand cities or promote democracy, inclusion and respect for human rights by using sport to spread and share values; equally it can help build teams, share experiences and promote values of inclusion and accessibility.
Any of us can be a Sport Diplomat – whether a coach or athlete, or ambassador or chief executive.
The pilots we will fund are part of a two-year project called Towards an EU Sport Diplomacy (TES-D). The TES-D project is an initiative co-funded by the Erasmus+ Programme of the European Union (EU), headed by the Institute of International and Strategic Relations in France (IRIS) in collaboration with 7 European partners from six countries who are dedicated to the implementation and promotion of an EU approach to sport diplomacy.
If your project is selected, you will have an opportunity to meet TES-D partners and work with them at the Multiplier sport event in November 2021 at the MOVE Congress 2021.
Please take note of the following basic information and requirements concerning the implementation of the pilot actions:
All pilot initiatives start after 1 January 2022 and finish before 30 October 2022.
Financial contribution to the Pilot initiative implementation from TES-D project is maximum 5000€. ISCA will sign an agreement with all Pilot Action owners.
Partners are responsible for the effective implementation of their respective initiative, while close cooperation with International Sport and Culture Association (ISCA) is foreseen.
Monitoring shall be done via regular online meetings with ISCA team/respective partners, addressing the following aspects:
o planned activities implementation;
o positive and negative experiences in the process of implementation;
o legacy aspects, how the pilot can be developed to a full scale project in the future.
Collection of all materials related to the implementation: you need to secure visibility and recognition of your achievements by writing the pilot initiative story and presented on the TES-D website for other organisations to be inspired by.
Documentation needs to be collected: short report, meetings minutes, participants list, promotion materials, photos, videos, quotes/statements from participants regarding TES-D latest by 15 November 2022.
How to apply for a Sport Diplomacy pilot initiative
To apply to support to run a sport diplomacy pilot initiative, please describe your initiative in the following application form by 15 October 2021.
For more information, please contact:
Saska Benedicic Tomat, sbt@isca-web.org